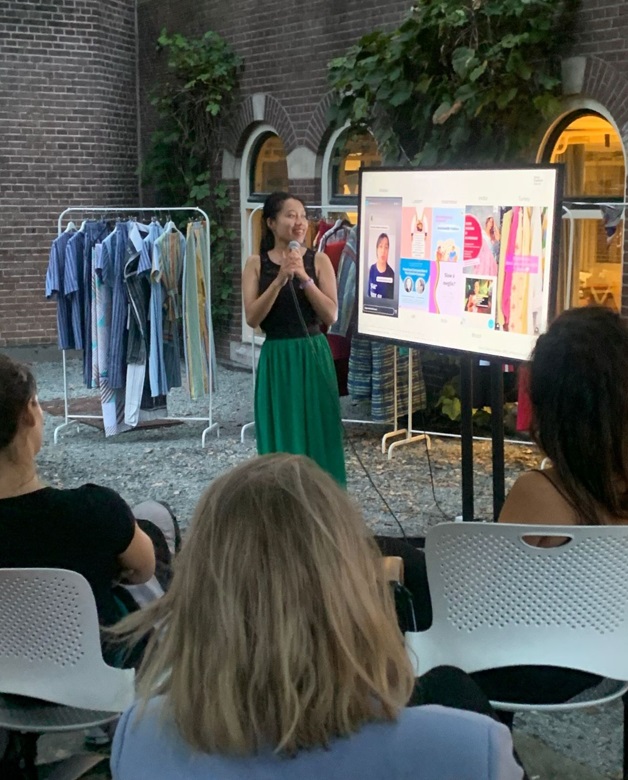 Great to catch up with 2021 Significant Insights Global 30 Under 30 honouree, Cynthia Tze Keng Ko, who works at Versiti and is a research executive specialising in Equity, Diversity & Inclusion, volunteers at Slow Fashion Movement as a global campaigns coordinator and consistently advocates for mental health awareness through Mind.
Hi Cynthia, take us through your industry journey so far? How did you arrive at this point?
My journey is shaped by my interdisciplinary and international nature: I've gained experience in design, research, technology and behavioural science; I have also lived in the Netherlands, Australia and currently reside in the UK. I'm diverse in both my experiences and ethnic background, so painting my industry journey might take a while! It all started with a passion for human insights and creativity, though.

After graduating from my Bachelor's degree in Industrial Design Engineering, I wanted to do something that would bring me closer to the people we design our products for. Yet, a part of me did not want to let go of my tech-savvy, creative attitude either! Combining these two interests, it only made sense for me to venture into the world of digital marketing.
So I took up a digital marketing position at a tech start-up that creates interactive, digital tools for the educational sector. Here, I worked on data analytics and creative marketing but soon realised I wanted to help solve social issues through people's experiences. I moved to an agency-side role as a researcher, where I got directly involved with projects that would redefine people's health/sustainability perceptions and their use of public spaces.
Back then, the Sustainable Development Goals weren't known yet but I knew that similar values for the betterment of people and the planet would guide me in life. There was already a shift in consumer attitudes happening but not as prevalent as what we are now witnessing due to COVID-19. I knew that design thinking, paired with behavioural science, would truly change the way we uncover insights which would help organisations do better in the world.
Convinced by my intuition, I continued my master's in Design for Interaction and also pursued a post-graduate diploma in Behaviour Change at University College London. I got in touch with inspiring people who used their research insights to create a better world and wanted to give a platform to these people by co-organising UCL's student-led Sustainability in Our City Conference. My interdisciplinary background and passion for social impact then led me to look into pro-environmental behaviours in the fashion industry where I uncovered consumer insights (backed by behavioural science) and prototyped a sustainable clothing service for a vintage-inspired company called King Louie.
Ever since this project, I continued advocating for ethical and sustainable fashion by volunteering for the Slow Fashion Movement as a campaigns coordinator. This has put me in touch with people from all over the world, who taught me about the hidden ethnic and socio-econimc inequalities behind our climate change conversations. Being from an ethnic minority background myself, I was determined to further understand the 'intersectionality' of inequality.
So today I am working as a research executive at Versiti, a market research agency that specialises in Equity, Diversity & Inclusion (EDI) . The research projects I've been involved in have looked into all types of inequality in the UK. From setting up an industry-wide survey on EDI in the mortgage industry, to doing a literature review for the Independent Commission for Equity in Cricket, to uncovering ethnic inequalities in youth employment during COVID-19… Every project is quite different yet driven by social purpose, which is what excites me most!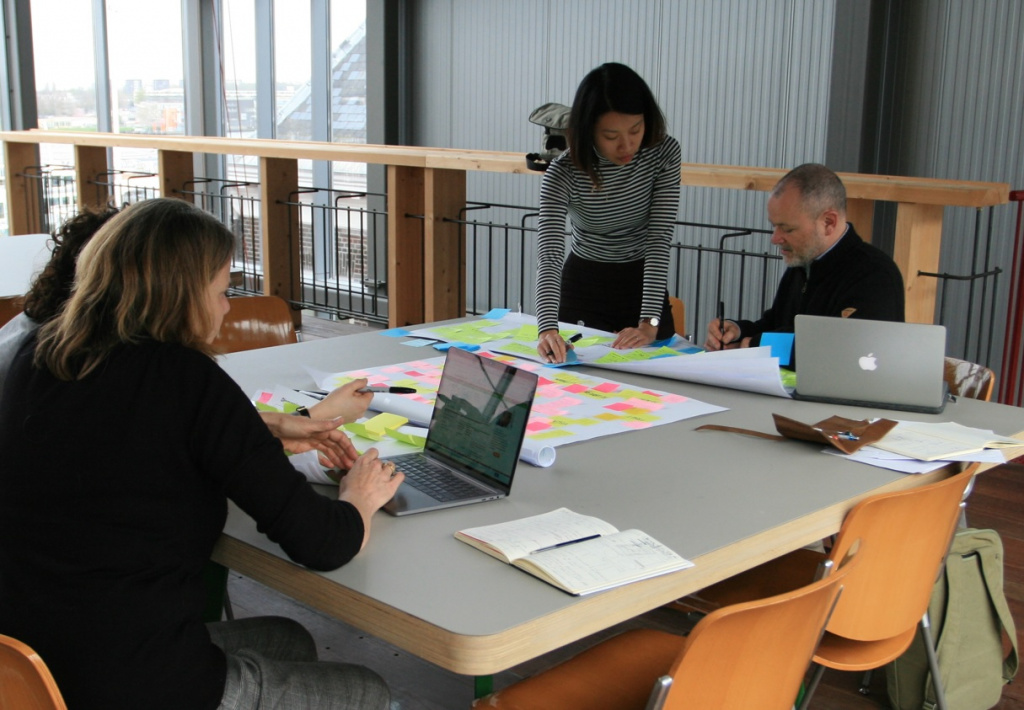 So, what's so inspiring about our industry?
This industry understands the power of consumer insights and how this could transform society. What's more, it is even willing to transform itself, even though change is happening at a varying pace depending on the brands or organisations we work for. I recently read an article stating that social movements such as #BlackLivesMatter and #StopAsianHate has significantly impacted content decisions over the last 12 months for nearly two-thirds of global marketers. This year's Market Research Society Impact Conference was also dubbed 'the most diverse MRS conference ever', where my team and I had the opportunity to talk about a peer-led research project to understand the ethnic inequalities in youth employment during COVID-19. The presentation was well-received by the industry and won the MRS Impact Audience Award.
I'm also seeing more and more research emerge around other big issues of our time, such as climate change, technological inclusion, financial equity, etc. I hope the industry can keep inspiring me with research projects that are relevant for the planet and its people.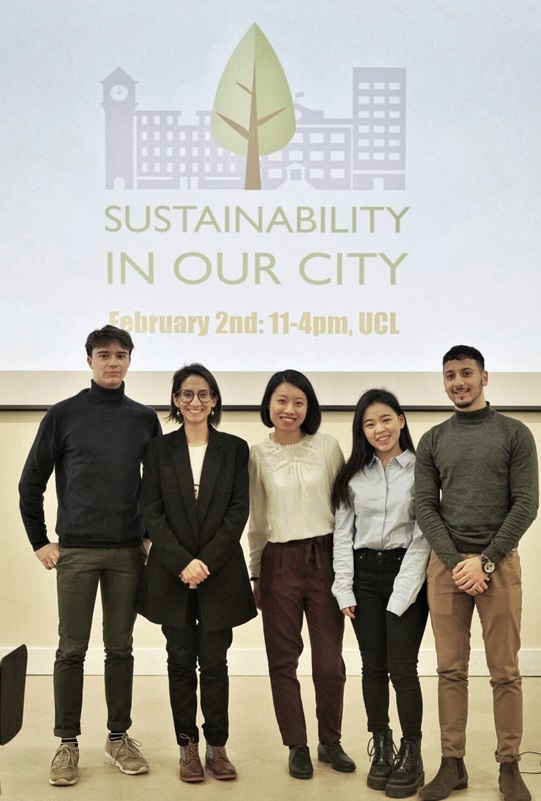 What message do you have for anyone considering a career in our industry?
There is no 'one way' to get into the industry and don't be afraid of taking the road less travelled! Many researchers will have come from a social sciences background which helps build a methodological foundation. I come from various educational backgrounds but what's driven me most is my interest in humans. Complex projects that deal with 'wicked problems' such as climate change or racism often require mixed methods. I am moreso a qualitative researcher but am also aware that the combination with quantitative methods can create evidence that drives powerful change. Having a heart for both data and human stories will get you far.
Having said that, I am aware that there are still inequalities in the industry which make it difficult to progress. Earlier this year, Versiti conducted research on the state of EDI in the market research industry – analysing the data for this was truly heartbreaking. As a woman from an ethnic minority background I know what it's like to be discouraged by the lack of role models or a lack of inclusion overall. To those who can relate to that, I hope that you will see that more and more people are becoming aware of the changes that are needed. It still remains a lonely battle but hopefully with an increased awareness around healthy workplace cultures during the pandemic, this will also trickle over to more rigid D&I policies.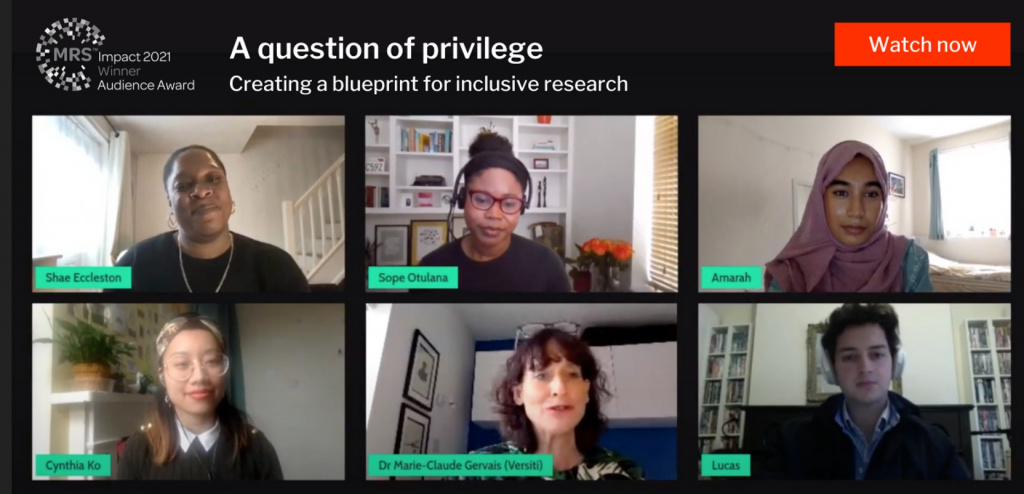 How do very junior researchers stand out?
By recognising that your voice matters and that the impact you could be making in the world goes beyond your every-day job. I am beyond grateful for the socially meaningful work I get to do at Versiti but I also recognise that the things I learn in my every-day role can be applied in other causes that inspire me. On the other hand, what I learn outside my job can inform my work as a researcher.
For example, I have always been a mental health advocate due to my lived experience of chronic depression. In my personal life and social media channels, I share my lived experience as much as possible to raise awareness. I've even been invited to contribute my story of mental ill-health and discrimination as a case study for "Diverse Perspectives: a course for change", thanks to my colleague Shae Eccleston, who provides EDI training to the NHS.
Ever since my role at Versiti, I've been able to use my expertise in EDI and apply that to a more systemic level of change in mental health. I became a 'Bridging the Gap' advisor for Mind, which looked at how to be more inclusive of ethnic minority communities when recruiting for Lived Experience roles. Right now I am also a Lived Experience facilitator and running to become a potential trustee at Mind.
In contrast, my activities related to climate advocacy have given Versiti a new way of thinking about intersectionality. As mentioned before, I am very active in the sustainable fashion space, where I've been involved in setting up three major, global campaigns and also co-founded the Slow Fashion UK initiative. Being in touch with industry experts, consumers and brands all over the world has given me a wider perspective on environmental injustice. What I've learned from campaigning I've always shared with my team and currently we are actually working on a project that could entirely change the way brands see their responsibility in issues of intersectional environmentalism.
In other words: Don't be afraid to keep learning and creating or chasing opportunities that match your values. You never know when your new-found knowledge and skills will come in handy as a researcher.